The holidays are a time of giving and celebration, but can often be a hard time for folks in long-term care. This past year was especially difficult with COVID-19 sprawling the country. Strict limitations designed to protect residents put a damper on festivities due to limited family visits and additional stressors for staff. In support of spreading holiday cheer, our team developed creative ideas to boost spirits of community residents and staff!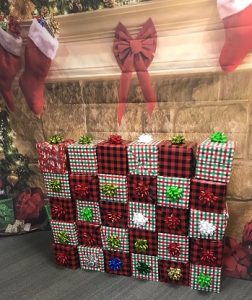 One facility we partnered with was Englewood Health & Rehabilitation Center, which experienced difficulties dealing with COVID-19 . Even though it is not a facility we typically service, we decided residents were in dire need of a Christmas care gift. Our staff wrapped care gift packages that included socks, a brush or comb, shaving cream, manicure kits, cold crème and puzzle books.
We identified another opportunity to give back when we were informed that one of our facilities, Village Place, ALF was hit particularly hard by COVID-19. For this reason, we sent a basket of personal hygiene items to Susan Nobles, health and wellness director, to distribute to residents.
Finally, our account managers Anya Priddee and Rebecka Martinez worked extremely hard to create gift baskets for staff at all of the communities we serve, which were cheerfully delivered before Christmas.
Our team members work hard to provide excellent service to all facilities we directly serve, in addition to supporting the surrounding community!